Description
The CaterpillarKit is a fantastic way of studying an insect life cycle and the magic of metamorphosis in a classroom or just have fun observing it at home.  An unforgettable learning experience that lasts 4-6 weeks.  The kit allows you to closely observe the caterpillars development and their metamorphosis into pupae (chrysalises) and butterflies.  Butterflies can be kept in the folding enclosure and fed sugar solution and fruit juice using the feeding sticks provided.  Alternatively, they can be released during the warm time of the year when temperatures reach above 20C.
Additional chrysalises can be purchased with this kit.
The kit includes:
A foldable Enclosure (37x37x60cm)
Plants cuttings
6 healthy caterpillars
Detailed setup instructions and National Curriculum linked activities handbook – 78 pages of teaching goodness! – Downloadable PDF document. The instructions (5 pages) will be emailed ahead of time.
Butterfly feeding sticks
A magnifying glass
A brush to handle caterpillars
A water mister to spray water on chrysalises
Unlimited online and phone support
Guaranteed to produce at least 3 butterflies!
Caterpillar Kit Video instructions:
Cost and Delivery:
The cost of the full kit is $199.  This price includes Express Post delivery. We pack all Caterpillar kits on Mondays for Express Post* delivery, so you should expect to receive them on Tuesday/Wednesday depending on your location or the wind direction… .
*Australia Post notification: Next-business-day guarantee currently suspended – Express Post remains our fastest postal service.
How to Order:
Use the cart option above to place your order and you will be issued with an invoice on your order confirmation email. Payment options:
Bank transfer,
PayPal and
Credit Cards.
Releasing or keeping your butterflies:
Butterflies require 20C or higher to fly.  They will be sleepy at lower temperatures.
The butterflies can be kept as pets in your pop-up enclosure for 3-4 weeks or longer but you need to feed them every second day. It is easy to feed butterflies.   Soak a paper towel in sugary water (1-2 teaspoons of sugar per glass of water) and place it on top of the enclosure. Butterflies are attracted to light and always hang out at the top of the enclosure.  This is where you place your paper towel.  You can also put one at the bottom of the cage, just in case. Additionally, it's a very good idea to mist the mesh of your enclosure with water to keep the butterflies hydrated.
Monarch Butterfly: (main option)
Orchard Swallowtail: (available seasonally)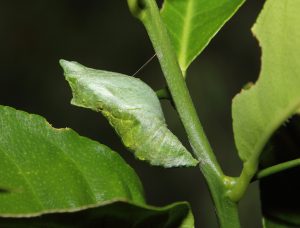 .